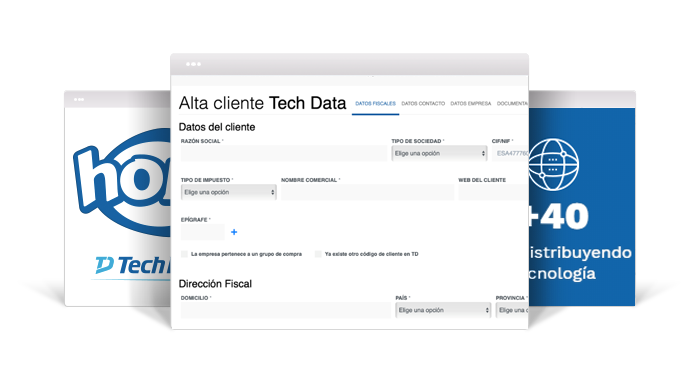 Hola Tech Data
Client: Tech Data Spain
www.holatechdata.com
n! factorial has created the customer registration management platform for Tech Data, enabling automation, monitoring, auditing and documenting the entire process, streamlining and optimizing the customer registration procedure.
N! Factorial has created the customer registration management platform for Tech Data Spain.
The workflow has been designed so that all interactions with both the client and the departments involved in the approval of the request are made within the same application obtaining traceability and security throughout the process.
In the initial analysis of the application all the possible casuistry related to the registration process and the departments involved in it were taken into account, facilitating the traceability of the process and communication with the client at all times.
The documents generated and the transactions carried out are stored in the system, which allows auditing all the processes for future checks.
"The new client management platform is a step forward in our way of understanding and treating such an important moment for the customer experience like this. Internally, it has allowed us to identify and channel the necessary workflows assuming all the necessary requirements. Externally, we are committed to a complete but simple process that allows companies to access the technology distribution channel in a short space of time. "
Daniel Sánchez, Credit & Collection Manager of Tech Data Spain
Tech Data connects the world with the power of technology.
Tech Data's portfolio of end-to-end products, services and solutions, highly specialized skills and expert knowledge of next generation technologies allow distribution channel partners to bring to market the products and solutions that the world needs to connect, develop and advance. Tech Data ranks 88th in Fortune 500® and has been included in Fortune's "World's Most Admired Companies" list for the tenth year in a row.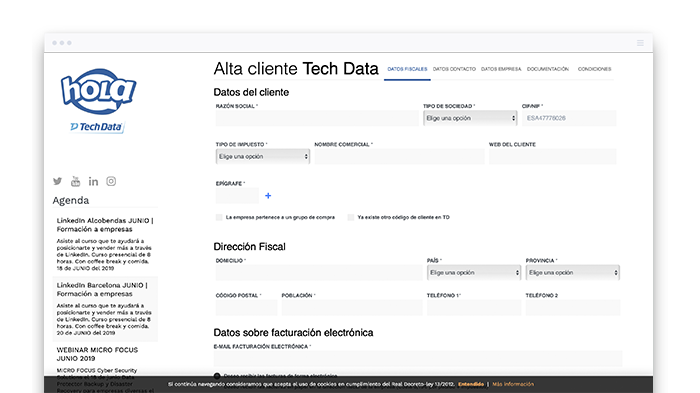 Customer registration management platform Tech Data
N!factorial, for more than 20 years, develops custom projects that allow the digital transformation of processes in companies providing analysis, development and maintenance of the applications made.