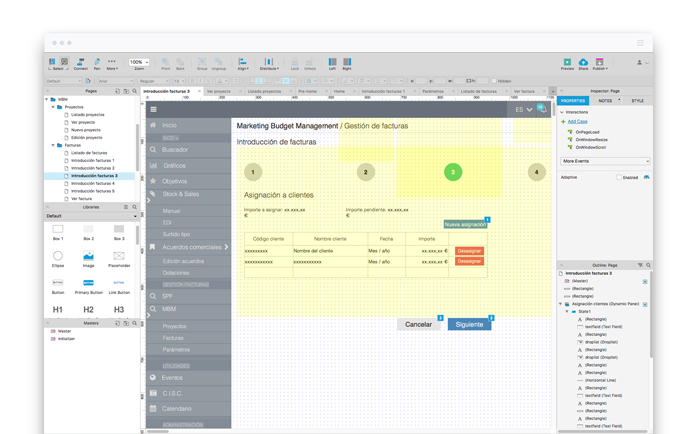 Consultancy services
knowing the what, how, when and how much is the objective of our work.
As consultants, we provide a response tailored to the specific needs of each client.
Before starting a new project it is necessary to know the requirements of it and fit it into the structure in the client's company. We work with our client to define the processes in which the application intervenes, detect the needs and carry out the project in order to fit it into the organization of the company.
The web applications made by factorial are characterized by their usability, minimizing user training times.
Tecnology
---
Our goal is to offer customized solutions in information technology, analyzing and incorporating the company's processes into computer management systems that improve the security of operations and improve their performance.

Analysis of business needs
we make a study of the current needs, the workflow of the processes and the possible future uses of the implemented solution.

Search for the right technologies
of implementation to the needs of the client, taking into account the factors of functionality, cost, security and robustness while ensuring the appropriate scalability of the proposed solution.

Project management
we work as a team with the objective of developing the project and implementing it.

Project monitoring
once the start-up is done in order to solve the incidents and incorporate new functionalities as the company needs them.
e-Business
---
We help our clients to put their business on the network, analyzing all aspects of it, from the competition to the implementation of the project and its subsequent monitoring. Our consultancy in the incorporation of the electronic business is divided into 4 areas that can be combined to offer a global solution to the needs of the client.

Presence on the Internet
We accompany and advise our clients in their communication strategy on the Internet and we make a complete plan that includes all the necessary aspects so that your presence is a success.

B2B (Business to Business)
we design e-commerce tools among businesses, integrating them with the company's computer systems and applying the usability criteria adapted to the type of product and client.

B2C (Business to Consumer)
We create e-commerce tools aimed at the final customer where we take into account aspects such as integration with logistics operators and payment systems and the definition of a marketing strategy both for attracting new customers and for the loyalty of existing ones.

Intranet
we analyze the data and procedures used in the company to integrate them in a tool that allows to improve the efficiency in the processes and have better data for decision making.