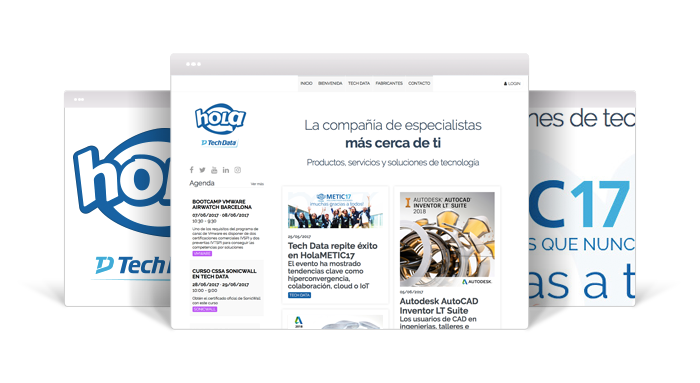 Hola Tech Data
Client: Tech Data Spain/p> www.holatechdata.com
Tech Data is one of the largest technology distributors in the world with a global turnover of $ 26,400 million in 2016 and more than 150,000 IT references sold.
Tech Data Spain was founded in 1989 and has more than 10,000 active customers distributing the products of more than 125 manufacturers.
The goal of Tech Data Spain was to improve communication with its customers, bringing them information from a centralized place, classifying the contents following the criteria used in the sector and with the possibility that these are shared in multiple ways.
The proposed solution
Working Together with the marketing department, we analyze all the divisions and their communication needs. Based on this analysis, a proposal was made to build a communication portal aimed at the technology distributor.
The result of this joint work resulted in "Hola Tech Data"", a portal that allows to centralize the information of all the divisions, with public and private contents (only for clients).
For the management of the portal information, a specific content manager was designed, adapted to the needs of the project, both at the level of information management and the structure of the company.
The portal has access to private content that uses the same credentials as those used by the customer in its "In Touch" sales portal, which facilitates access to specific information for the customer.
A calendar system allows to have all the information classified by division and manufacturer with all the information related to the events that are carried out, both organized by the company and by the manufacturers, linking with registration systems of attendees.
The statistical system that incorporates the project allows to measure the results obtained from the contents published in the portal.
The project has also included the design of the corporate image of the same that has been used as a basis in several communication campaigns of Tech Data.
Hola Tech Data is ready to grow and adapt to future extensions depending on the needs of the company, being the digital communication bet of the subsidiary in Spain for communication with customers.