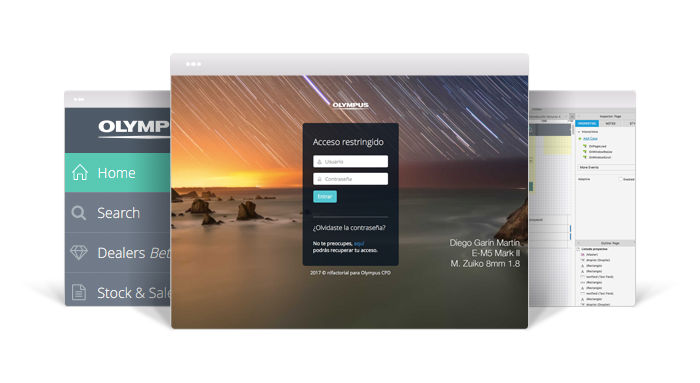 Olympus
Client: Olympus
Olympus is a Japanese company founded in 1919, currently an important manufacturer of innovative optical and digital equipment in the health and consumer electronics sectors.
From the division of consumer electronics (photography cameras and voice recording equipment) the need for a commercial information system that helps the entire department to visualize sales data and tools that help management is detected and internal process control
The proposed solution
The different data sources (internal management, EDI systems, information generated in the internal application) are visualized in a web platform with different search tools that allow to have all the business information in real time.
All the data is updated in the platform in connection with the different external systems through automatic processes, which allows to have updated information at all times.
The application also has several modules created according to the needs of Olympus that allow the integral management of the commercial and marketing departments..
The creation and automation of commercial agreements with clients allows a complete economic management, knowing at all times the budgets dedicated to these agreements.
The marketing department can manage your budget easily, taking into account the different areas and projects, facilitating their management and reporting.
An analysis of the needs has been carried out and the different departments have been worked on in order to obtain tools that are integrated into the business dynamics and are easy to use.
This adaptation to the company's processes and the usability of the tool has allowed to reduce the period of training in the use of the tool that can be used both in computers and mobile devices, this being a key point for the team to use commercial.
The result obtained is that Olympus has a tool that allows the integral management of your business, facilitating the tasks of the different departments of the company.