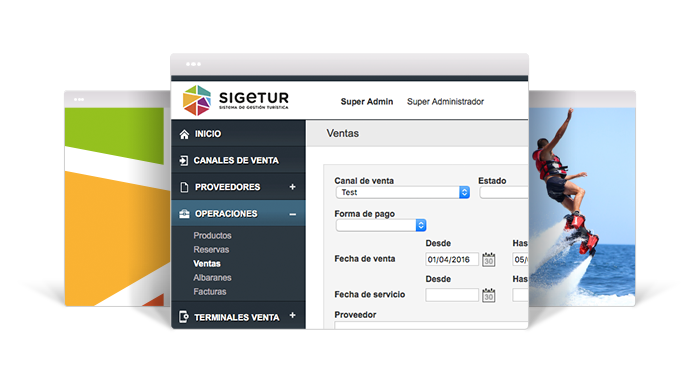 Tourism Management Systems
Client: Tourism Management Systems
www.sigetur.com
We receive a large number of tourists who visit us to enjoy their holidays and the different tourist areas have a wide range of activities aimed at these visitors.
Based on the agreements with the Lloret de Mar Hotel (this town receives more than 1 million visitors a year) we were able to analyze all the sales processes involved in the sale of tourist products at destination from all points of view .
For this purpose, n!factorial has created a new company, Tourism Management Systems, to manage the tourism activities management project.
The proposed solution
An application has been created that allows the integral management of tourist products and the relationship with all the actors involved.
The tourist products have been parameterized in such a way that it is possible to incorporate from free tickets without limit of capacity to those that require a complex quota management such as excursions with several stops along the way.
The administrative tasks have been automated allowing the different operators to have freedom both when it comes to managing payment and when negotiating commercial conditions with intermediaries.
The service provider has full control over their product through the management platform. Both the photographs, texts, languages, quotas and availability according to dates. Everything can be controlled by the product manager.
The built-in APIs allow integration into any system. Mobile applications, web, self-service machines, Smart TV, integration with hotel sales processes, etc. These APIs give the project total flexibility when it comes to making the tourist product available to the visitor.